It is widely known that the right ones can complete any outfit, and the wrong ones can break even the best ensemble. Done well, they can anchor the style of the wearer and provide them the platform they need to put their best foot forward. I'm talking about shoes, arguably the most important part of any gentleman's wardrobe.
A good pair of dress shoes should be classic, timeless and well built. It should have either a Blake or Goodyear welt that will allow it to withstand any test put in front of it, and not fall apart in 6 months. These types of welts describe how the shoe is constructed and stitched together, and by modern standards, they are very time-consuming, but essential to a well-constructed and high quality shoe. The shoes should be made out of good leather that can age beautifully the more you re-shine them. Additionally if properly taken care of, a good pair can last anywhere from 5 years to 10 years, perhaps even longer.
Shopping for a good pair of shoes in New York can be a daunting and tiresome task, especially when most boutiques offer cheap fast fashion shoes that will not last through your next winter. But luckily, we at DNY are here to help with a simple dress shoe guide to New York, depending on your budget.
Less than $200
Created in 2013, Jack Erwin is an online American brand that sells direct to the customer with no physical presence (bar a tiny fitting room in Tribeca), no middlemen and no agents. All this lends to a brand with little overhead and low prices, but good quality made in Spain products. The collection is fairly basic, with a number of Blake and Goodyear welted shoes that range from oxfords to derbies to chelsea boots. If you are looking for a good, cheap intro oxford, Jack Erwin has the shoes for you. https://www.jackerwin.com/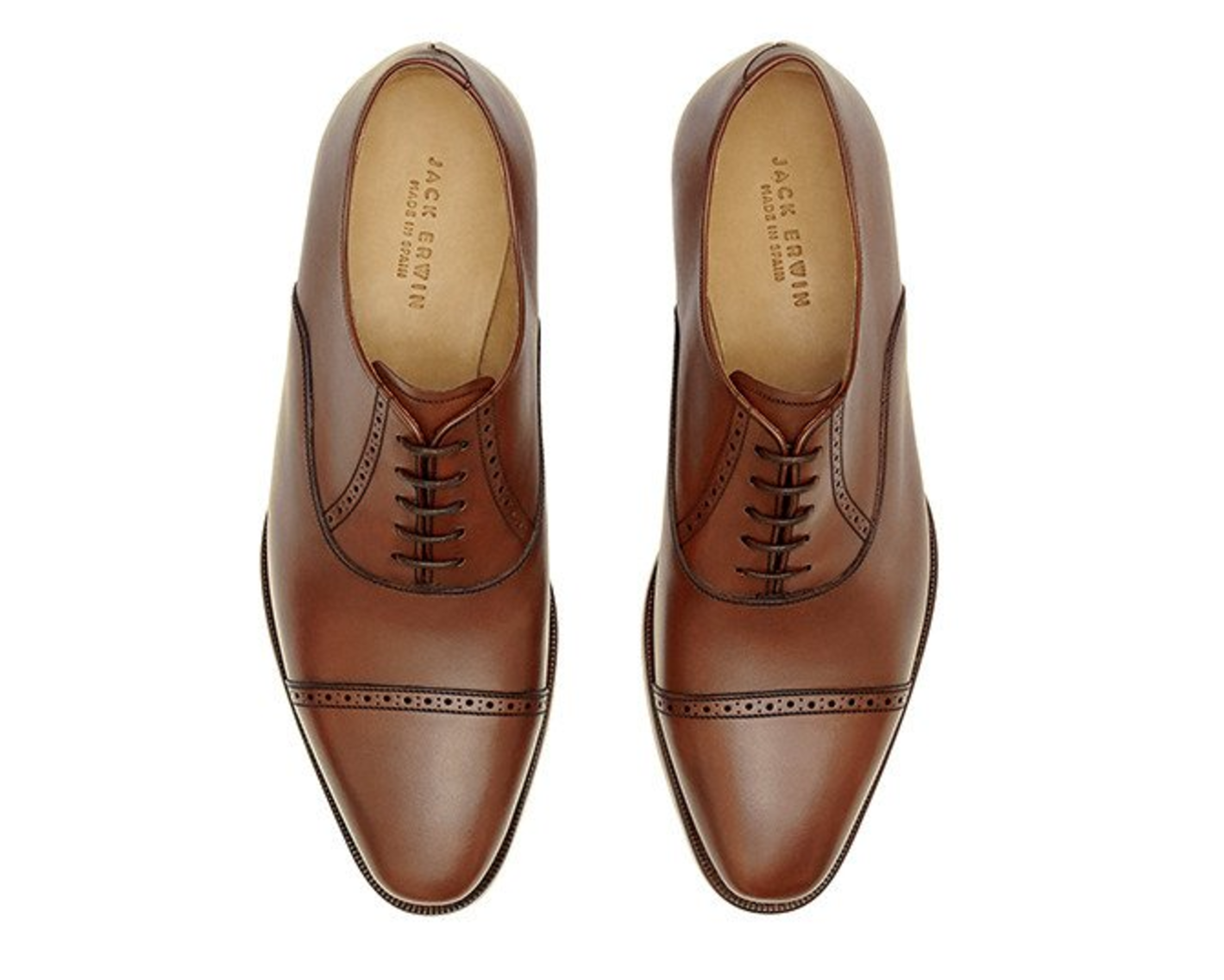 Another brand benefiting from the digital age is Meermin, a shoe brand based in the coastal town of Mallorca, Spain. They have a vast and exquisite collection of Goodyear welted classic shoes that are very reasonably priced for their high quality handmade products. Meermin makes a wide range of lasts (shape of the shoe) depending on the type of shoe and the formality/casualness of it, but they provide an easy guide to differentiate them all which you can find below. You really can't go wrong with any type of Meermin shoe, especially with their beautiful leather and suede oxfords. However, my only criticism is that their monkstraps tend to lean on the wider side of the spectrum, so they do not look as sleek. https://www.meermin.es
$200-$400
If you did not know already, we at Dapper New York are very big fans of Suit Supply, and I'm happy to say that that admiration extends to their handmade made in Italy shoe collection. Suit Supply follows the same model when it comes to their footwear as they do their tailoring, making use of the finest ingredients, leather in this case, and blending it with classic yet contemporary construction. Their shoe collection hovers in the mid-$200s and features over 20 tassel loafers and monkstraps, all beautifully constructed and ranging from casual suede to formal leather with everything in between. If you are yet to introduce tassel loafers into your arsenal, then I would highly recommend you choose Suit Supply as your brand of choice. http://us.suitsupply.com/en_US/shoes
A relative newcomer into the shoe market, and still fairly unknown, Septieme Largeur is a french brand with 3 stores in Paris, 2 more in Asia and a growing online presence (for those in New York, you can order the shoes online, similar to Meermin). Their shoe styles are classic and extremely elegant, favoring the narrower french style as opposed to some of the bulkier options. This lends itself to more formal and sleeker shoes, especially when it comes to their oxfords, monkstraps and boots. With prices in the high $200s, Septieme Largeur provides extremely good quality leather products with beautiful shapes and finishes. Additionally, if you are in the mood to splurge over $450, Septieme provides the customer with the opportunity to pick a blank pair of shoes and work with the shoe stylists to customize the patina (the color applied that changes in brightness across the shoe) that will be applied to the shoes, resulting in a unique one-of-a-kind product, as I did with a pair of jodhpur boots last year. http://www.septiemelargeur.fr
$400-$700
If you are looking for shoes within this range, then you are lucky to have a wide range of very good brands to choose from, so make sure you stay away from the over-priced cheaply-made products at offer at the big department stores (looking at you Hugo Boss and Ferragamo). A good place to start in the mid-$400s is Magnanni, a Spanish brand that has been hand-making their shoes in Almansa, Spain since 1954. Favoring longer toed and narrower shoes, Magnanni is definitely not for the faint of heart and demands a certain level of confidence to pull the shoes off, but if done right, there are very few things that look as sexy. In my opinion, they make some of the best looking chelsea boots on the ready-to-wear market, perhaps surpassed only by Edward Green (~$1500s). Some of their styles are very eccentric, so you might have to sift through a few different shoes to find the right pair, but if you lack a pair of good chelsea boots and are willing to go over the $400 bridge, then Magnanni is the brand for you. http://www.magnanni.com/
A little higher on the price range is Crockett & Jones, an English brand that has been making shoes in Northampton, UK since 1879, and forms the core of the Northampton shoe brands (known as the best shoemakers in the world) which has in its ranks Church's, John Lobb, Edward Green, and Gaziano & Girling to name a few. Suppliers of shoes to the last 4 James Bond movies, Crockett & Jones has a very large collection of shoes and lasts ranging from the low $600s to the high $900s, all Goodyear welted and handmade in their factory in Northampton. You really can't go wrong with any type of shoe from C&J, including their whole cut oxfords (the entire shoe is made from one piece of leather), their monkstraps (or monkstrap boots), and their full grain leather Islay boots (as made famous by Daniel Craig in the Scotland scene of Skyfall). C&J also has a very good series of videos on their website that show you all the stages of the shoe construction in their factory, which can be found here. https://www.crockettandjones.com